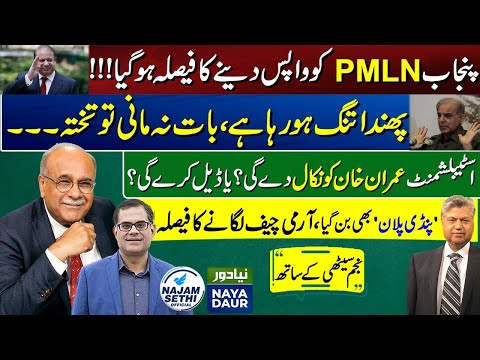 Watch now – Video Duration: 00:41:17 (hh:mm:ss)
#NajamSethiShow #NajamSethi #NajamSethiOfficial
Pindi Plan: Will Imran Khan And MNS Bite? | Naya Daur | Kabar Say Aagay | Najam Sethi Official
Punjab going back to PMLN?
Establishment doesn't want to eliminate Imran Khan from the system. What does it want then?
#PindiPlan ready, decision also reached on next army chief's appointment
Noose tightening?
Najam Sethi on #KhabarSayAagay with Raza Rumi, Murtaza Solangi
#NayaDaur #punjab #imrankhan #establishment #nawazsharif #pakistan
Tune into Najam Sethi Show.
Which Channel keeps getting banned because Najam Sethi is on it? Channel 24 News HD.
All your questions answered. Everything is on one Youtube platform: Najam Sethi Official.
Twitter: https://twitter.com/najamsethi
Twitter: https://twitter.com/sethi_official
Facebook: https://www.facebook.com/TheRealNajamSethi/
YouTube: https://www.youtube.com/c/NajamSethiOfficial