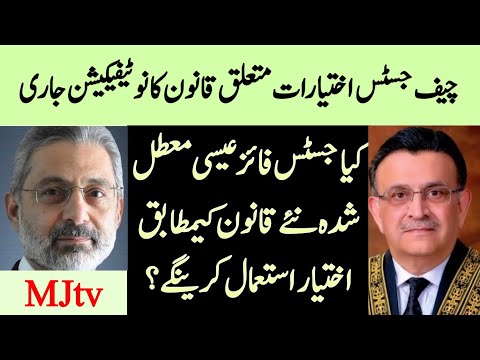 Watch now – Video Duration: 00:27:05 (hh:mm:ss)
The government today (Friday) notified a law that was suspended by 8 judges of the apex court declaring it an apparent infringement of the independence of the judiciary. The law had snatched the currently exercised powers by the chief justice to constitute benches and take direct action against govt in the name of public interest. Some judges in the bench are also opposed to such an exercise of powers by the chief justice which u set the law has now been distributed to two senior judges next to the chief justice. Now the question is will the two senior judges act on the law and abide by the 8 judges' verdict to temporarily suspend the law made by the parliament.
Facebook: https://www.facebook.com/Matiullahjan919
Twitter: https://twitter.com/Matiullahjan919
Instagram: https://www.instagram.com/matiullahjan_mjtv/
YouTube: https://www.youtube.com/c/MatiullahJanMJtv
#matiullahjan #pti #imrankhan #election2023 #generalbajwa #mjtv #faizhameed #pmln #SupremeCourtofPakistan #electiondate #qazifaezisa #umeratabandiyal
Govt notifies law, about powers of the chief justice, suspended by the court, will other judges act on law?
Subscribe to Matiullah Jan MJtv:
https://www.youtube.com/c/MatiullahJanMJtv?sub_confirmation=1