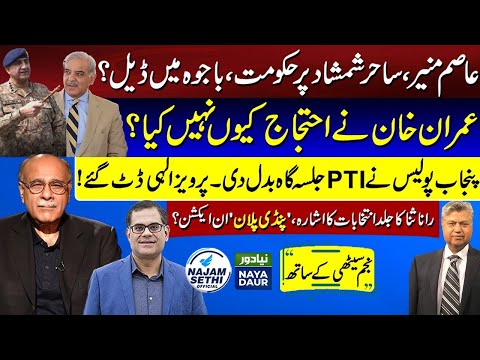 Watch now – Video Duration: 00:41:41 (hh:mm:ss)
#NajamSethiShow #NajamSethi #NajamSethiOfficial
Will Gen Asim Tilt Against Imran? | Will Political Turmoil And Instability End? | Naya Daur | Najam Sethi Official
Govt-Bajwa Deal On Asim, Sahir | Punjab Police Vs PTI? | Rana Sana Early Election | Pindi Plan
Asim Munir, Sahir Shamshad: deal between govt, army?
Why Imran Khan agreed to appointments?
Punjab govt vs PTI on Rawalpindi sit-in
Rana Sana hints at early election: 'Pindi Plan' revived?
Najam Sethi on #KhabarSayAagay with Raza Rumi, Murtaza Solangi
#NayaDaur
Tune into Najam Sethi Show.
Which Channel keeps getting banned because Najam Sethi is on it? Channel 24 News HD.
All your questions answered. Everything is on one Youtube platform: Najam Sethi Official.
Twitter: https://twitter.com/najamsethi
Twitter: https://twitter.com/sethi_official
Facebook: https://www.facebook.com/TheRealNajamSethi/
YouTube: https://www.youtube.com/c/NajamSethiOfficial