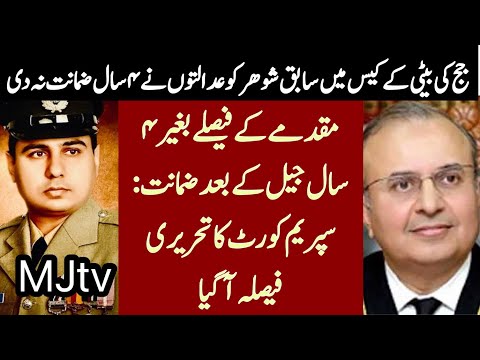 Watch now – Video Duration: 00:17:59 (hh:mm:ss)
Syed Justice Mansoor Ali Shah and Jusyice Ayesha Malik of Supreme Court rejected a petition of a daughter of former chief justice of Lahore High Court. Petitioner an ex wife of a DIG Police dismissed from service on her complaint sought cancellation of bail of her former husband who remained in jail for four years contrary to law and practise allegedly u Der the influence of former chief justice of the high court.
Facebook: https://www.facebook.com/Matiullahjan919
Twitter: https://twitter.com/Matiullahjan919
Instagram: https://www.instagram.com/matiullahjan_mjtv/
YouTube: @MatiullahJanMJtv
#mjtv #matiullahjan #justicemansooralishah #justiceayeshamalik #supremecourtofpakistan #lahorehighcourt #chiefjusticelahorehighcourt #digpolice #trialcourt
Supreme Court explains granting bail to ex police officer after 4 years of imprisonment during trial
Subscribe to Matiullah Jan MJtv:
https://www.youtube.com/c/MatiullahJanMJtv?sub_confirmation=1
Stay connected with MJtv to get informed 24/7!