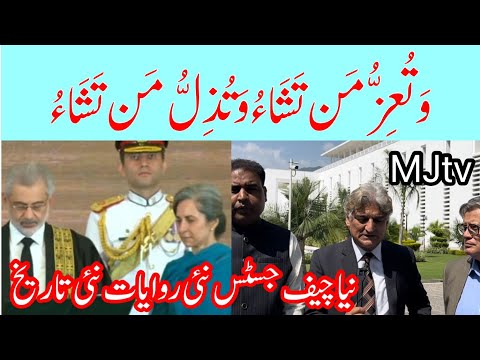 Watch now – Video Duration: 00:20:59 (hh:mm:ss)
I thank my colleague court reporter Tayyab https://youtu.be/R3ujqOBCpUc?si=S2DJj7tOzJLF_iP1 for help in Camera work for this V-log
Former Chief Justice Qazi Faez Isa took oath as new chief justice of Pakistan closing a tumultuous chapter in the country's judicial history in which he was forced to stand in the dock in front of his fellow judges to face corruption charges. Both justice Isa and his wife fought tooth and nail a legal battle that culminated in their historical triumph.
Facebook: https://www.facebook.com/Matiullahjan919
Twitter: https://twitter.com/Matiullahjan919
Instagram: https://www.instagram.com/matiullahjan_mjtv/
YouTube: @MatiullahJanMJtv
#mjtv #matiullahjan #justiceqazifaezisa #chiefjusticeqazifaezisa #oathtakingceremony #supremecourtofpakistan #challenges #presidenthouse #justice #historical
New Chief Justice Qazi Faez Isa makes history sets new tradition as wife joins oath taking
Subscribe to Matiullah Jan MJtv:
https://www.youtube.com/c/MatiullahJanMJtv?sub_confirmation=1
Stay connected with MJtv to get informed 24/7!