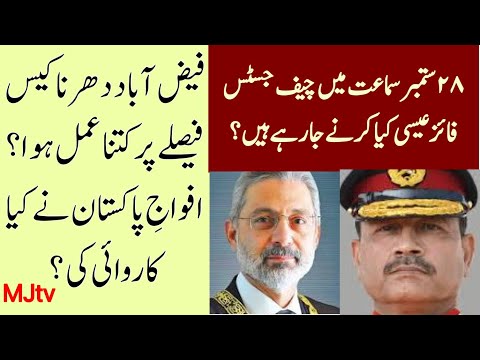 Watch now – Video Duration: 00:29:49 (hh:mm:ss)
The newly appointed Chief Justice of Pakistan is not coming slow. In a dramatic start of his career as the top judge of the country he went for live telecast of full court hearing on a contentious issue and now he has fixed for hearing review petitions by country's power intelligence agency the ISI against his authored judgement that hinted involvement of armed forces into politics in violation of their oath. #MJtv talks to senior court reporter Nasir Iqbal.
Facebook: https://www.facebook.com/Matiullahjan919
Twitter: https://twitter.com/Matiullahjan919
Instagram: https://www.instagram.com/matiullahjan_mjtv/
YouTube: @MatiullahJanMJtv
#mjtv #matiullahjan #faizabaddharnacase #reviewhearing #chiefjusticeqazifaezisa #qazifaezisa #establishment #isi #nasiriqbal
Faizabad dharna judgement review hearing by new chief justice to open can of worms for establishment
Subscribe to Matiullah Jan MJtv:
https://www.youtube.com/c/MatiullahJanMJtv?sub_confirmation=1
Stay connected with MJtv to get informed 24/7!