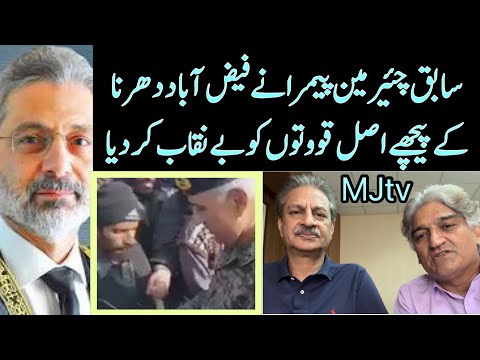 Watch now – Video Duration: 00:28:33 (hh:mm:ss)
Former chairman Pakistan Media Regulatory Authority Absar Alam has for the first time unmasked real players behind the famous dharna (sit-in) in November 2017. The Supreme Court in its verdict hinted at possible involvement of military establishment in this protest that brought to grinding halt the economic and social life in twin cities of Islamabad and Rawalpindi. The new chief justice Qazi Faez Isa is heading a three judges bench to hear review petitions against the apex court judgement that called for action against those armed forces personnel who were found involved in political activity.
Facebook: https://www.facebook.com/Matiullahjan919
Twitter: https://twitter.com/Matiullahjan919
Instagram: https://www.instagram.com/matiullahjan_mjtv/
YouTube: @MatiullahJanMJtv
#mjtv #matiullahjan #faizabaddharnacase #chairmanpemra #qazifaezisa #chiefjusticeofpakistan #establishment #faizhameed #generalbajwa
Former media regulator exposes players behind Faizabad dharna ahead of apex court hearing on 28 Sep
Subscribe to Matiullah Jan MJtv:
https://www.youtube.com/c/MatiullahJanMJtv?sub_confirmation=1
Stay connected with MJtv to get informed 24/7!